[Home] [Parents] [Siblings] [Maureen] [Joel] [Friends] [Places] [Iowa City] [Santa Cruz ()] [Publications] [Sign guestbook] [See guestbook] [Email me]

Big Creek
&nbsp &nbsp &nbsp Bud McCrary is a lumberman, the owner of Big Creek Lumber Company, but even the most ardent environmentalist -- like me, for example -- would find it hard to set him up as a demon. He's an environmentalist himself and loves the land. He was born in one of the houses on Big Creek and has lived there all his life. And once or twice a year he opens the place up for a Sierra Club hike, which he leads himself -- often using a machete to chop out a route for the rest of us.
&nbsp &nbsp &nbsp I've gone on the hike before, and come again, this time with Lois, in May 1994. Numerous other people I know from the Sierra Club and elsewhere are there, including Jacky Lewis (whom I introduce to Lois for the first time), Kathy Nicholson, Sheila Dunniway, and Sally Johnson. Nick Wyckoff and Kirk Smith are the hike's nominal leaders.
| | |
| --- | --- |
| | Some of the Sierra Club folks who came out for the Big Creek hike. Lois is in the middle. Sheila Dunniway, off to the right in the red teeshirt, was the leader of the first hike I went on when I first came out to Santa Cruz -- a Green Earth Singles five-miler up to the barrel mill in Fall Creek state park. |
&nbsp &nbsp &nbsp Lois is enchanted by the greenery and the little falls. We try to stay up front, close to Bud, to hear what he has to say about this wonderful piece of land he grew up on.
&nbsp &nbsp &nbsp What he's saying right now is that we all ought to rush out and buy Tecnu-Oak before we go home. You can't help brushing against poison oak on this hike. Sometimes you find yourself clinging to the stream bank to keep from falling in and you realize that that stuff that's tickling your cheek is . . . uh huh -- that little three-leafed cluster. And following Bud up a steep hillside you suddenly are given the choice of pushing through a thicket of the stuff or marching through a hornets' nest.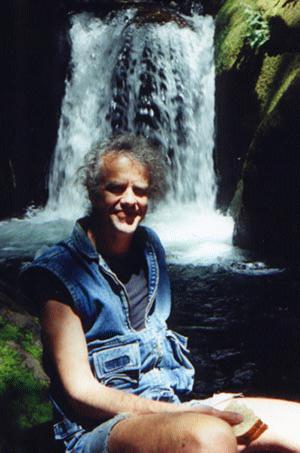 &nbsp &nbsp &nbsp I get ahead of Lois. Walking along a raised log, I turn around, thinking I will make some joke to Jacky, who's close behind, about Friar Tuck and Robin meeting in midstream or something -- and all of a sudden I am flat on my back five feet below, my left temple whacked against a rock or log.
&nbsp &nbsp &nbsp "Hold up a moment", somebody says, and somebody else says, "Are you all right?", and I say yes, excellent, why do you ask?, and haul myself up by the bootstraps and plod forward thinking Jesus, what an imbecile! These things are supposed to happen to other people, not to me!
&nbsp &nbsp &nbsp We eat lunch below a little falls by big boulders with fern-furry hairpieces on them, and then go onward, past other falls, till we get to the largest of the falls. We pause there while a few people go into the water. A couple of guys nude, a couple of others in bathingsuits, and one woman in her lycra biking shorts and teeshirt. I take off my shoes and wade into the creek and think about it, but the water is cold and even the air in this secret spot seems to have become rather chilly, and I chicken out.
| | |
| --- | --- |
| Lois at our lunch spot. The teeshirt with the big moon rising above Half Dome is one she got a year before when we spent some time at Yosemite. | |
&nbsp &nbsp &nbsp Instead of bushwhacking our way back we go up the hill and follow a fire road back. When we get back to the main road through McCrary's property people take off at their own pace. Jacky marches ahead while I go more slowly with Lois.
&nbsp &nbsp &nbsp One of the things I love about Lois is her insatiable curiosity. She's set on looking into the barn, so we take a trip inside. The smell of the hay takes me back to uncle Frank's farm in Indian Head, Maryland. Lois sits on one of the bales and says it reminds her of the ranch she lived on when she was a little girl.
&nbsp &nbsp &nbsp While we're talking about various things she says something about wanting to go to Washington someday. To see the Smithsonian and other places. She hasn't been there since her honeymoon. I think it would be lovely to go there with her, and tell her we could do that. She could fly to meet me in Iowa this summer and we could drive east. We could stay with one of my sisters in DC and with my brother in New York.
&nbsp &nbsp &nbsp She doesn't take me up on that, and inside me, as we head back to her car, I'm certain it will never come to pass.
| | |
| --- | --- |
| | Bud McCrary with Lois. Bud was born on the land and grew up on it and doesn't want to do anything to harm it. He's a real environmentalist. When Lois and I were hiking at Wilder Ranch a year or so later we came across him and his wife using shovels to repair the damage horses had done to some of the hiking trails there. |
&nbsp &nbsp &nbsp When we were all lunching earlier Jacky told Lois and me she'd made a lot of curry and needed someone to help her eat it. She invited us both over. But ... Lois has other priorities. She goes off to spend the evening drumming with another man, and I head down to Jacky's place in Aptos by myself.
[Nota bene: This page, like all the others in this site, is in progress. Please let me know if you find anything false, misleading, or offensive, or if there's anything that's intrusive to your privacy. It's hard to maintain privacy on the internet! Let me know too if there's a photo or something in the text that should be removed or something that should be added. I have not set up this site primarily for my own sake but for my family and friends -- and I welcome all corrections, additions, and suggestions about how to improve it!]

Home page
Parents
Siblings
Maureen
Joel
Friends
Places
&nbsp &nbsp &nbsp Iowa City
&nbsp &nbsp &nbsp Santa Cruz
&nbsp &nbsp &nbsp &nbsp &nbsp &nbsp
&nbsp &nbsp &nbsp Winchester, Virginia
Publications
Copyright © 1999 T. N. R. Rogers. All rights reserved. Last revised 25 mar 99.