First of all, I should explain to you about all the Joels. Our family has been a repository of Joels. A Joel Rogers was born to a Thomas Rogers in 1766, and probably there were others before that. My father was named Joel, and so is my brother. Joel the father, Joel the son, Joel the brother. A veritable trinity of Joels. A multitude of them, when you consider my nephews Alan Joel and Philip Joel. (My nephew Jay would have been named Joel too, but his father was syrian -- and since Joel was too hebraic a name, he became Joseph instead. Yusip.)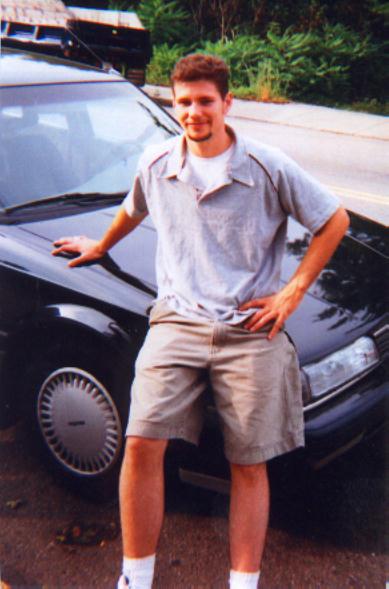 Joel's (this Joel's) middle names are Meredith and Delaney. Joel jokes that Maureen and I named him Meredith because we wanted a daughter. Actually, stupid as I am, it never even occurred to me that Meredith was a woman's name. I am so embarrassed! There was a Meredith among our ancestors -- that's the Meredith Joel was named after. An Owen Meredith who allegedly lived in Scotland in the thirteenth century or so.
I have been unable to uncover any facts about Owen Meredith, even on the internet. But I bet he was a hell of a guy.
The photo above shows Joel in september 1998, on a visit to his grandmother in Weymouth, Massachusetts. (To see some other photos, click on the Joel links at the bottom of the page.)
I am very proud of him. He's inherited all of Maureen's good qualities and none of my terrible ones.
He's been working as an environmental engineer ever since getting his degree from the University of Michigan in 1996 -- first in Dearborn, Michigan, and South Bend, Indiana, and since the summer of 1998 in New York. Living in Manhattan, working in a sweet little Long Island town named Locust Valley.
[Nota bene: Please let me know if you find on this site anything false, misleading, offensive, or intrusive to your privacy, or if there's a photo or something in the text that should be removed or added. I welcome all corrections, additions, and suggestions.]
Home page
Genealogy
Parents
Siblings
Maureen

&nbsp &nbsp &nbsp Joel in 1973-1977
&nbsp &nbsp &nbsp Joel in 1981-1982
&nbsp &nbsp &nbsp Joel in 1984
&nbsp &nbsp &nbsp Joel in 1985-1986
&nbsp &nbsp &nbsp Joel and Tommy in Canadian Rockies
&nbsp &nbsp &nbsp Highschool graduation
&nbsp &nbsp &nbsp Joel and Unity in Yosemite
&nbsp &nbsp &nbsp Joel at Rocky Ridge, 1995
&nbsp &nbsp &nbsp Joel at Año Nuevo, 1995
&nbsp &nbsp &nbsp Joel's Michigan graduation
Friends
Places
Publications
Copyright © 1999-2002 T. N. R. Rogers. All rights reserved. Last revised 30 may 02.