[Home] [Genealogy] [Parents] [Win's photo albums] [] [Winibee] [Jackie] [Julie] [Joey] [Maureen] [Joel] [Friends] [Me] [Places] [Publications] [Sign guestbook] [See guestbook] [Email me]




My sisters and brother
Here are a few of the early photos of all of us together — a lovely day in April, in the side yard of our house at Hastings-on-Hudson, New York. The house that was on top of the highest hill in Westchester county and had a lovely view of the river and the Palisades.
The photo below is probably the first in forty years of the five of us together. And it was the last.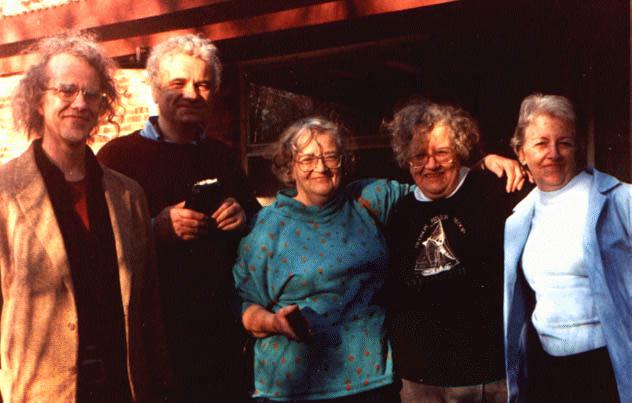 It was in Jackie's back yard in Kensington on March 18, 1990, and we were there to scatter my mother's ashes. Win had died on christmas eve, but the scattering of her ashes waited till spring break.
My friend Maria Bona came with me from Iowa, and so did Joel and his friend Ceasura.
It was spring break. We were killing two birds with one stone. Scattering ashes and seeing the sights.
* * *

When I was on the GW crew a little group of rocks in the Potomac used to serve me as a reference point -- they told me how much further I had to row. And in the summer they were a nice place to clamber onto and have lunch when I was out canoeing.
They were called the Three Sisters. And that's how Joey and I think of our three sisters. As reference points. As rocks withstanding the floods and vicissitudes of time.
They've always been there for us, and always will be.
Before we were born our sisters were little girls playing in the sand on Cape Cod. (For some photos see Orleans, August 1938 and Truro, August 1939.)
The years have gone by since then. But in the photo below they are all holding hands just as though they are three, eight, and eleven and getting their nerve up to plunge into the chilly water.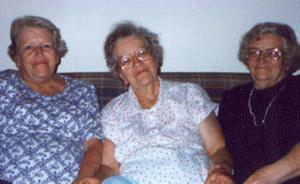 Jackie died in July of 1996. Her daughters scattered her ashes in the Chesapeake.
I didn't make it east in time for her memorial service, but Winibee and Julie and Joey were there. Julie was a little bent from the cancer that had attacked her spine and was wearing a wig to hide the ravages of chemotherapy.
She was strong as a rock. But now she too is gone.
And she too is with us always.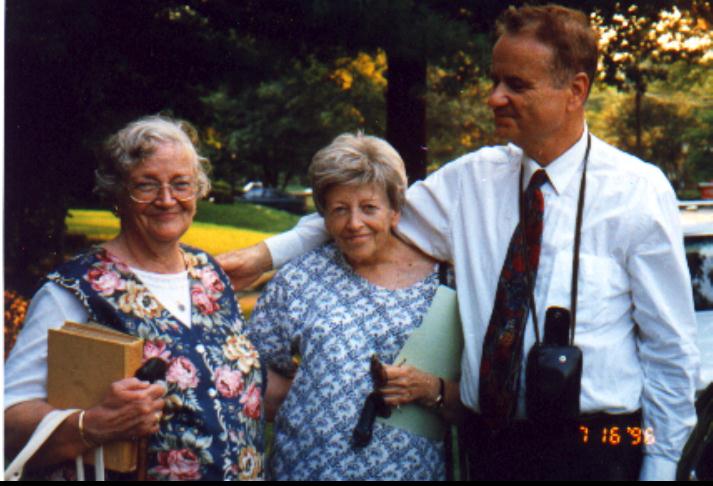 [Nota bene: This page, like all the others in this site, is in progress. Please let me know if you find anything false, misleading, offensive, or intrusive to your privacy. Let me know too if there's a photo or something in the text that should be removed or something that should be added. I have not set up this site primarily for my own sake but for my family and friends — and I welcome all corrections, additions, and suggestions about how to improve it!]
Home page
Genealogy
Parents
Win's photo albums

&nbsp &nbsp Winibee
– Winibee and Shery's wedding
– Winibee — 1999
&nbsp &nbsp Jackie
&nbsp &nbsp Julie
– Julie in Daytona
&nbsp &nbsp Joey
–Joey and Tanya
– Joey revisits Daytona
Maureen
Joel
Friends
Me
Places
Copyright © 1999 T. N. R. Rogers. All rights reserved. Last revised 12 nov 99.