[Home] [Parents] [Siblings] [Maureen] [Joel] [Friends] [Places] [] [Santa Cruz (Big Creek)] [Tahoe 1996] [Winchester, Va.] [Publications] [Add your comments] [See Guestbook] [See old Guestbook] [Email me]

Iowa City
When I was looking for a creative writing program it was a toss-up between Iowa and the University of Massachusetts and the University of British Columbia. The last two liked my work better, and if I had known I was leaving California for seventeen effing years, you couldn't have dragged me to Iowa with wild horses.
Well, maybe with wild horses you could have. But not tame ones, that's for sure.
How different everything would have been if we had gone to Vancouver or Amherst instead of Iowa City! Or if we had never left California.
Hardly a day went by, while I lived in Iowa, that I did not have thoughts of that sort.
But you never can tell what's going to happen, can you? And Iowa wasn't a bad place for Joel to grow up. I think it was a good place for him to grow up.
We went there instead of British Columbia or Massachusetts because it was the only place we could afford. Maureen, with her master's in dance from UCLA, was hired to teach dance at the University of Iowa — not hired as an instructor, but as a teaching assistant. But that was better than nothing.
So I mailed twenty or thirty boxes of books to Winibee and Shery's place in Mount Pleasant and quit my job at Gore Brothers Engraving Company, and we drove across the country in August 1974 pulling a U-Haul trailer behind our Econoline van.
We stayed at Winibee and Shery's place at first — fifty miles south of Iowa City — and then, while we searched for an apartment, stayed a week or so in the basement of one of Maureen's fellow instructors at the women's physical education department, sleeping on her spare waterbed.
Maureen's friend had been very gracious in offering her basement, but after a few days she and her husband were itching to have us out of there, and Maureen and I were feeling humiliated. We kept looking for a place we could afford. But it was impossible to find an apartment for less than a hundred dollars in Iowa City!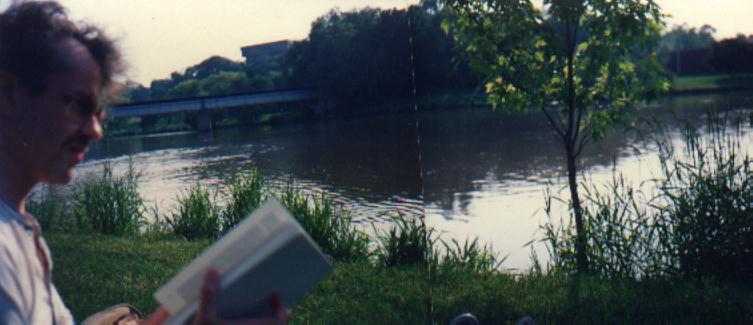 Many of the big old houses in the downtown had been razed in a burst of urban-renewal activity, and students were left homeless. We checked the ads every day and checked the housing office in the Iowa Memorial Union. One day I went to the housing office just at closing time and found on one of the empty desks a notice that had just come in fifteen minutes before and hadn't been put up yet. A house to share at 808 Davenport street — a hundred seventyfive a month, split down the middle.
We called the number immediately and said we wanted the place.
It was small and crowded and dark, and the first thing we did was to rip the almost-black imitation-siding self-stick wallpaper off the livingroom walls. Over the next few months I tried to give us some additional privacy and give Joel a tiny room of his own by putting up some additional sheet-rock walls, using a cheap handsaw to cut two-by-fours and an eight-ounce hammer to whack the nails into them.
Our neighbor in the house was Jim Williams, who would sometimes work out on his drum set in the basement. He also rigged a fluorescent light in the basement over a couple of garbage cans to try to grow marijuana.
Meanwhile, since Maureen was working and I was taking classes, we seemed to have no option but to put our beloved little boy into a daycare. There were several cooperative daycares near the fieldhouse on the heights on the west side of the river. We talked to the folks at Ho Ho daycare, who were sitting out on the grass on a warm september afternoon nibbling seeds from an actual sunflower, and they suggested that we try Dum Dum, a couple of doors away. Dum Dum would take kids younger than two, as Joel was.
So he started at Dum Dum and I started at the Writers' Workshop.
* * *
Of course it's never just the Writers' Workshop. It's the world-famous Writers' Workshop.
The main thing I remember about the Workshop is coming out of the seminars redfaced and wide-eyed and hyper. Not from the intensity of discussion, but from sitting in the rooms full of cigaret smoke for two hours.
The university was supposed to be a smoke-free environment, but the writers thought that that didn't apply to them.
They were writers. They were supposed to die of lung cancer.
* * *
Last year I got an email from a young woman named Jenny Yerkes, who had happened upon my website and who thought I was being meanspirited. Unfair to Iowa City and unfair to the Writers' Workshop. It really is world famous, she reminded me. She was writing from France, and people there knew all about the Writers' Workshop.
And as for Iowa City, what can I say? Now that I am living here on Long Island, where I really have never wanted to be, I think of Iowa City as a comfortable, comforting little community. It really is a nice place to live, and a fine place for children to grow up. Jenny herself grew up there. So did Joel and all of his friends — flowers, all of them, upon the face of the earth.
* * *
The photo above of me on the riverbank wasn't taken when I was at the Writers' Workshop, but years later. It's from June, 1986, when the Workshop held its fiftieth reunion. I was still living in Iowa City, doomed to stay there till Joel was old enough to go off to college. Shelley Nameroff, my sweet-tempered poet friend with the raven-dark hair, took a photo of me (looking through the reunion booklet, I suppose) on the bank of the Iowa River in front of the student union.
Across the river is the art building, where I took a single printmaking class, and where my friend Rhonda — among her many jobs — was part-time secretary for the world-famous printmaker Mauricio Lasanski. (He really was world-famous.)
I didn't meet Shelley in the Workshop, either. I met her when I was a world-famous Iowa City landlord. I met her at a party what's-his-name had in one of the houses I owned -- an ancient brick house at the corner of Lucas and Market, built in 1856. I bought it as soon as I got my first NEA grant.
It was two blocks from the Davenport street house, which we'd already bought, and when I walked past it it always looked like a cute little place. So when the real-estate agent showed me what it looked like inside, my mind was already made up. It took me about ten minutes to decide to buy it. Not a good idea.
One of the tenants there when I bought the house was Berke Breathed, the world-famous cartoonist. (He was really world-famous, too, I guess — the creator of "Bloom County" and later "Outland.") He was living downstairs at the Market-street house, with a couple of pet pythons, when I bought it, and he had just gotten hooked up with the Washington Post syndicate. He had come to Iowa City because his girlfriend was going through medical school at the UI.
That probably helped influence me to buy the house. How many landlords get to have their own world-famous cartoonist in residence?
Anyway, later I met some writers there as well, and one of them was Shelley.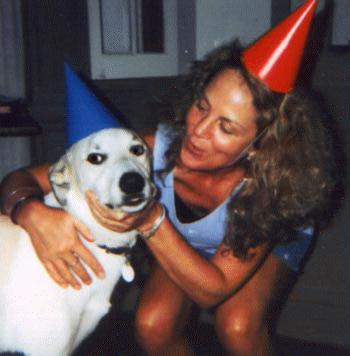 There were some others, too, in a couple of other houses I owned. Ehud Havazalet. Sheldon Stump (she's the one wearing the red party hat in this recent photo). Irene Connelly. Leigh Wilson and her friend Jane Tressel. Hillary Gardner. A few others, too.
Yeh, there are always a lot of writers in Iowa City. They are to Iowa City what massage therapists are to Santa Cruz.
The Writers' Workshop just keeps pumping them out. Generally about sixty new ones a year descend on Iowa City, half of them poets and the other half fictionists. The poets in general always seemed a little looser and more easygoing than the fiction writers. But the main place I got that impression was at parties. So who knows?
Not all of them have stuck with writing. When I was working at FCB HealthCare I found that a couple of other editors there were also Workshop grads — Mark Malkas and Joe Kornfeld. They'd both been through the Workshop before I ever arrived in Iowa City — back when it was still centered in a quonset hut on the riverbank, I guess.
They'd been working together at FCB for a couple of years before they discovered that they'd both been at the Workshop at the same time. Not only at the Workshop, but living in Black's Gaslight Village at the same time.
Black's Gaslight Village. Shelley lived there once too. So did Rhonda. She was living there when I met her and didn't leave until her place burned down.
Joe Kornfeld used to go out drinking with Ray Carver when he was in the Workshop. Ray with his wife and kids. Ray who himself succumbed to lung cancer before he reached fifty.
What a waste!
* * *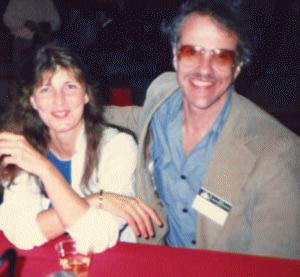 Among the people who lived at 729 Market street at one time or another (by the time I'd come to my senses and was trying desperately to get rid of the place) were the poets Deborah Digges and Stanley Plumly. Shelley still had her camera with her later at the Writers' Workshop reunion when all of us were sitting around drinking beer in tents set up in the field by the student union, and she took this photo of Deborah and me.
It's a terrible photo of Deborah, and not too good of me either. I look drunk as hell. Or at least happy.
I don't know where Shelley was living when she took this photo. She'd been doing a lot of traveling around the country. Followed Bill Knott to Boston. Lived in Seattle for a while. Taught in Scranton, Pennsylvania. She hated it there.
She always loved Berkeley the best and has been living there for the past few years and trying to make ends meet with a job at Cal State Hayward.
The job sounds like perfect hell.
And, worse, she's had cancer, too. Like my sister Julie. The big C. The big unmentionable. All her thick dark hair fell out.
Last time I saw her it had grown back in and she looked fine. But I haven't seen her in a while — not even during the year and a half that I was living less than a mile from her in Berkeley.
Dear Shelley. I think she's doing okay now. We send each other emails every so often — not about the big C these days, but about little W. (See miserablefailure.gov.)
Politics.
* * *
Of course cancer isn't the only thing writers have succumbed to. If you're a writer you're a bear in the woods, or maybe a heffalump. There are plenty of traps out there. Pitfalls and deadfalls and those metal things that clamp shut on your leg and leave you the choice between chewing it off or becoming someone's livingroom rug.
Figuratively, of course.
One of the most talented writers at the Workshop when I was there was an Illinois boy named Steve Bell. In a world without pitfalls, you would have heard of him by now. You would have read his books. You would have seen his face in People magazine.
Instead, he sat in the front seat of his car and put a pistol to his head.
What a goddamned waste.
[Nota bene: Please let me know immediately if you find anything false, misleading, offensive, or intrusive to your privacy on this site. Let me know too if there's a photo or something in the text that should be removed or something that should be added. I welcome all corrections, additions, and suggestions.]

Home page
Parents
Siblings
Maureen
Joel
Friends
Places
&nbsp &nbsp &nbsp
&nbsp &nbsp &nbsp Santa Cruz
&nbsp &nbsp &nbsp &nbsp &nbsp Big Creek
&nbsp &nbsp &nbsp Tahoe 1996
&nbsp &nbsp &nbsp Winchester, Virginia
Publications
Copyright © 1999–2004 T. N. R. Rogers. All rights reserved. Last revised 8 oct 04.