[Home] [Genealogy] [Parents] [Win's photo albums] [Siblings] [Maureen] [Joel] [Friends] [Me] [] [Places] [Publications] [Add your comments] [See Guestbook] [See old Guestbook] [Email me]




Troop 54
As soon as I had attained the required age, eleven or so, I joined the Boy Scouts — Troop 54, which my brother had been a member of briefly a few years before. He had gone on a summer campout, and sent us a postcard, I remember — one of those bright-colored five-for-a-dime ones — which said A Summer's Day at Cowan's Gap. It showed a blue lake with tree-covered hills in the background, and it looked wonderful. One more step away from the womb and out into the marvels of the world.
&nbsp &nbsp &nbsp In my brother's time Andy Anderson had been the scoutmaster, but by the time I joined it was Dick Ellinger. Don Jackson was the assistant scoutmaster. We met every thursday night at the Baptist church at Chevy Chase Circle.
&nbsp &nbsp &nbsp That was where I met David McCullough, who's been my friend ever since — a neglected one, but still a friend. And Bill Jarrett, an even more neglected one.
| | |
| --- | --- |
| | Pogo and Dave at a D.C. Camporee in 1950. |

&nbsp &nbsp &nbsp The troop consisted of six patrols. Bill and Dave were both in the Bun Rab patrol, I think — which I think got its name from a character in the Walt Kelly comic strip, "Pogo."
&nbsp &nbsp &nbsp Actually, one of the guys in the troop was nicknamed Pogo, too — a very good-natured guy whose real name was Jim Thomas. I think he went off to a boarding school; I remember him a few years later regaling a few of his fellow summer-camp counselors (one of them me) with a story of how a friend of his would roll back in his bunk, light a match, and ignite his farts. That was something I had never heard of, and it didn't sound like a very safe pastime. It seemed as though the guy might accidentally blow himself to smithereens.
&nbsp &nbsp &nbsp But that's a digression, I guess. Scouting is not entirely about farting.

&nbsp &nbsp &nbsp Some of the other guys in troop 54 were Max McCullough, David's older brother, and Bob Jarrett, Bill's older brother. Also there were George Brown (who was called Sam), Ken Pierce, and Buddy McFarlane, who a few years later became President Reagan's national-security advisor.
&nbsp &nbsp &nbsp And, well, a lot of other boys as well. My inclination is to name them all here, scrape their names out of my brain just for the sake of the mental exercise, but what the hell. I'll take pity on you.
&nbsp &nbsp &nbsp I don't remember all the patrol names. One of them was the El Toro patrol, which I think Mike Boyd was in . . . I don't know. How about Adon and Frank Phillips and Steve Hoenack — what one were they in? And how about Dave Hopkinson?
&nbsp &nbsp &nbsp Why can't I remember the names of those other patrols? Could it be that there weren't really six? Or was it just that the others had such pedestrian names? (I do seem vaguely to remember a Wolf or Bear patrol.)
&nbsp &nbsp &nbsp Anyway, the one I was assigned to was the Sabretooth Tiger patrol. I think I'm the one who came up with the patrol's name. I know my mother painted a menacing sabretooth on an old scrap of sheet and hemmed it to make an official flag for us.
&nbsp &nbsp &nbsp We had our patrol meetings once a week (wednesday afternoons, I seem to remember, but maybe it was tuesdays or mondays) at the home of the patrol leader, George Beardsley. He was probably thirteen or fourteen, the son of an admiral whose particularly deepset eyes I noticed (I imagined that his eyes had retreated during years on the bridge of a ship, staring out over a blinding ocean), and seemed ages older than the rest of us.
&nbsp &nbsp &nbsp When George retired from his position, it was inherited by John Alsever. Since John was my own age, I felt envious and wronged. Why hadn't they picked me as patrol leader?

&nbsp &nbsp &nbsp No, no, no — there was no chance that they would ever have picked me, for anything. I was not a born leader. Not a social or political being in any sense. Dick Ellinger assigned me at eleven to a more fitting task: editor of the troop newspaper, The Tenderfoot.
&nbsp &nbsp &nbsp I wonder why. Did he know that my father was a writer? Or did I look like a writer?
&nbsp &nbsp &nbsp In my memory, it seems as though I put that newspaper out every week, but that can't be so. Maybe it was once a month. Or even less?
&nbsp &nbsp &nbsp My mother got some mimeograph stencils and showed me how to use them. I used an old upright Underwood, vintage 1912 or so, and at first (till I learned the touch system in eighth grade) did my typing with two fingers. I did all the writing too, of course.
&nbsp &nbsp &nbsp I can't remember what I wrote about. What I remember is the smell of the long blue stencils, the look of them in the typewriter, and the smell of the correction fluid.
&nbsp &nbsp &nbsp Mimeographs! I'm like an old man talking about the smells and sounds of a horse and buggy. Things that have engraved themselves in our brains but that are lost forever!
&nbsp &nbsp &nbsp My first boyscout camping trip, I think, was in the spring of 1952 — a damp, muddy "camporee" somewhere in northeast Washington, D.C., somewhere near Gallaudet College, it seems to me. An area probably long since overgrown with housing tracts or apartments. Not exactly the wilderness. Our drinking water came from big hanging canvas barrels (probably surplus from some army base) and had probably been trucked in. What actually stands out in my mind most vividly was that George Beardsley or someone had chopped a small limb off a red cedar tree — an unprepossessing little tree, but what a wondrous scent the red cut wood gave off!
&nbsp &nbsp &nbsp I was thinking that this camporee was in honor of the city's sesquicentennial, but now I think that that is probably wrong. The sesquicentennial camporee must have been one a couple of years earlier — the one where the above photo of David and Pogo was taken. Joey too had attended, and had gotten which I inherited — a white isosceles triangle with red and blue trim, which is still probably resting among the other old junk I have retained in Iowa City awaiting the advent of my second childhood.

| | |
| --- | --- |
| At the springhouse at Twisted Timbers, a field day in summer of 1952. My sister Jackie, niece Debbie, parents, and Joey and I. | |

&nbsp &nbsp &nbsp Several times a year we would go camping at the troop's little cabin in the woods, "Twisted Timbers," part of someone's farm in Maryland. The cabin was an old wreck, smelling of desolation. We camped in the woods nearby in big, bulky, grey-green explorer tents, which were made of heavy canvas and required, first of all, that we chop two or three eight-foot poles to hold the tents up. All the water we drank or used for cooking or cleaning dishes had to be hauled, in collapsible olive-drab canvas waterpails, from the springhouse, which was far way downhill and on the far side of a meadow.
&nbsp &nbsp &nbsp I remember that interminable, lonely water carrying — trying to keep it from spilling on my pantslegs and shoes as I hurried up the hill with it at dusk. And I remember my long, repeated struggles over a campfire as I tried to make a complete dinner turn out all right, planning so everything would be ready to be served simultaneously, in order to earn my cooking merit badge. I remember the odoriferous outhouse on the side of the hill, and I remember the long games of capture the flag on the sloping farmfield outside the woods when the chill of autumn was starting to close in and silvery mist was rising from the grass.
&nbsp &nbsp &nbsp Twisted Timbers — yes, probably it too has been wiped off the face of the earth, replaced with housing and condos and roadside signs saying "If You Lived Here, You'd Be Home Now!"



&nbsp &nbsp &nbspA couple of other photos from the field day in 1952. Evidently my mother, after taking the first photo, told Joey and me to stand together for a more brotherly shot. I don't recognize any of the other people. (Could the man in the undershirt be Bill and Bob Jarrett's father?) But you can see what sort of day it was. You can feel the fragrance and the damp heat coming up at you from the grass.
&nbsp &nbsp &nbspOff to the left are the woods where we used to set up our explorer tents. Here, where the cars are parked, is the big field where we would sometimes have games of capture the flag.



&nbsp &nbsp &nbsp There were also other more major trips. The kids with money got to go on skiing trips. Or all the way across the country to the national jamboree in Irvine, California, in the summer of 1953. I didn't think too much about those things. We didn't have the money to throw away on adventures like that.
&nbsp &nbsp &nbsp But in the summer of 1953 I did get to go off for two weeks to the troop's summer camp at Big Pool, Maryland, and that was a great adventure that I remember still with pleasure. The bugler waking us every morning with reveille. Fishing off an old log (in a pond on the way to the waterfront), and catching nothing but silver-dollar-sized sunfish. And mostly, learning to swim. I had always been timid about swimming, but the waterfront counselor, Jim Culp (who was a football star at Woodrow Wilson highschool), gave me new courage.
&nbsp &nbsp &nbsp The beach was covered with shale stones, many of them containing ancient fossils. Sometimes in the water my friends and I tossed back and forth the inflatable plastic creature I had brought along. I had wanted an inflatable Schmoo, like those made famous in Al Capp's comic strip, "Li'l Abner," but they were too expensive, so my father picked up this thing instead, and told me, well, I could give it the same sort of schmoolike name — "Tell your friends it's a Wooze," he said, and that's what I did.
&nbsp &nbsp &nbsp Those are the sorts of things you remember — the most inconsequential things of all.
&nbsp &nbsp &nbsp The following summer the scout camp was held at Pine Grove Furnace state park in Pennsylvania, not far from Gettysburg, and what I remember there is that we did our cooking with charcoal, and always got the charcoal going by placing some of the briquettes in wax-coated milk cartons that we set afire. And I remember that we were organized into temporary patrols, and I named ours "parvae agricolae," because I had just begun taking latin at Alice Deal junior high, and a typical junior-high insult was to call someone "you little farmer."
&nbsp &nbsp &nbsp Which was probably short for "little fucker," but in those days nobody would have said such a thing or even had such a thought.
&nbsp &nbsp &nbsp The camp was at Pine Grove Furnace again the next year after that — 1955, when I was a counselor myself for the first time. I was chosen as nature counselor because I had gotten an honorable mention at the D.C. science fair with a display about environmental conservation. Dick Ellinger decreed that my tent should be off by itself out in the pine woods; that seemed to him most fitting for a nature counselor, but I was lonely out there.
&nbsp &nbsp &nbsp The summer after that, 1956, the scout camp was at Deep Creek lake, and I was the nature counselor again. I remember going down the lake in the motorboat with a couple of young scouts and hiking up a hill to look for snakes, which were all my passion at that time. And it sticks in my memory that we came upon a flat rock where several rattlesnakes were out sunning themselves.
&nbsp &nbsp &nbsp Were there really several?
&nbsp &nbsp &nbsp Were they really rattlesnakes?
&nbsp &nbsp &nbsp On parents' day, I attempted to make sassafras tea with tree roots, but it didn't seem to have much flavor, so I remember adding a bottle or two of rootbeer. Just the way the pioneers used to.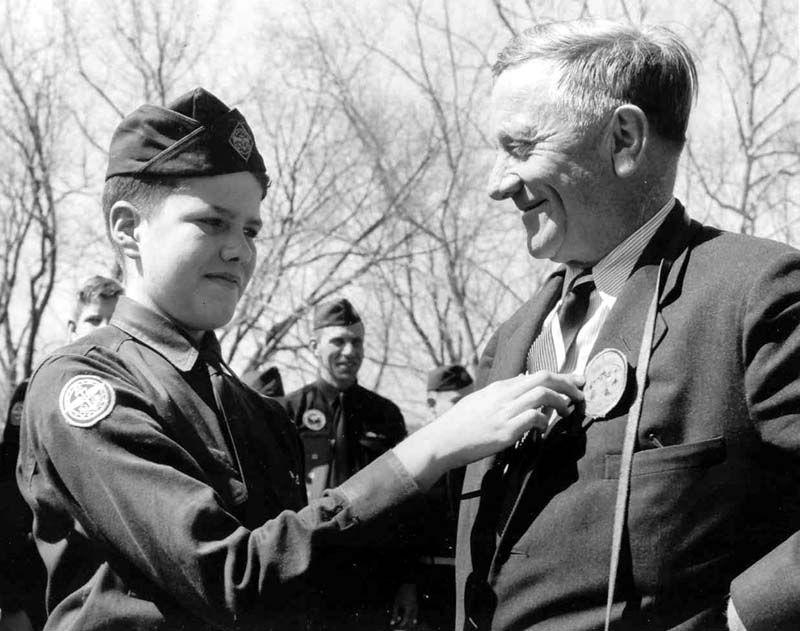 A photographer from the Washington Post or the Star took this photo of me awarding one of troop 54's badges to Justice Douglas. I was fifteen, and this lovely day was in the springtime of my life. Between us you can see Dick Ellinger. I think the face partially cut off by my shoulder probably belongs to Barton Mahan.

&nbsp &nbsp &nbsp Earlier that year, in the springtime — Easter break, it must have been — we had another fine adventure. We took the train from Silver Spring to Point of Rocks, Maryland (an adventure in itself, it seemed to me), and from there began a fifty-mile hike, following the Chesapeake and Ohio canal back to Washington. When we got to Great Falls, Maryland, we laid out a fine lunch (with the help of some parents) for a few distinguished visitors. One of them was William O. Douglas, a justice of the supreme court. Douglas was intimately connected with the C and O canal. He himself had spent a lot of time hiking the towpath and had campaigned for the canal's cleaning and reconstruction.
&nbsp &nbsp &nbsp Dick Ellinger had assigned me to award him one of the troop's patches. I don't know whether this was after I had read Douglas's book Of Men and Mountains, or whether I read the book after having been given this wonderful assignment.
&nbsp &nbsp &nbsp Anyway, I was utterly taken by the book. Douglas had had infantile paralysis as a boy and had strengthened his legs bit by bit by hiking in the Cascades of Washington state. That was the sort of man he was — a man who saw obstacles only as stepping-stones. By the time I met him, I was his most fervent admirer, and I let that, at least, be known in the few stumbling words I said before handing him the troop patch. The photographer posed us with me holding the patch to Douglas's lapel and snapped the photo.
&nbsp &nbsp &nbsp After that lunch, we got into canoes and paddled the rest of the way to D.C. via the canal and the Potomac. Our parents were waiting for us when we got there, well after nightfall. We were filthy and exhausted. The next day my photo with Justice Douglas appeared in the paper, and a few months later an illustrated article about our hike appeared in Boy's Life, which had sent its photographer out to accompany us for part of our journey.
&nbsp &nbsp &nbspBoy's Life! We had reached the pinnacle of fame!

&nbsp &nbsp &nbsp That august, we went out to Philmont scout ranch, all the way out in New Mexico. I had never been further west than West Virginia (we had gone cave exploring there). On the Philmont trip we camped the first night in a park in the center of Indianapolis and the next night in a roadside park in Kansas. We bought cowboy hats in Colorado Springs. Dick Ellinger got mad at us for dawdling and decreed that we could not see Pike's Peak — a painful blow (but in fact Ellinger did take the boys in the carryall to Pike's Peak; those of us who were riding in Donald Jackson's car that day were the only ones shortchanged). We did get to see Royal Gorge, and we all met up at a motel in Raton, New Mexico, where we took showers before driving the final few miles to Philmont.
&nbsp &nbsp &nbsp Every night while we were traveling, I had to compose a night letter to send to the parents waiting anxiously at home. And then I would haul out my spiral notebook and write about our day's adventures for the trip's log, which Dick Ellinger had assigned me to write.
&nbsp &nbsp &nbsp It was my first time west. I was just sixteen, and the world was open wide.
&nbsp &nbsp &nbspWhat a great adventure it was!
[Please let me know if you find on this site anything false, misleading, offensive, or intrusive to your privacy. I welcome all corrections, additions, and suggestions.]

Home page
Genealogy
Parents
Win's photo albums
Siblings
Maureen
Joel
Friends
Me
&nbsp &nbsp
Places
Publications
Copyright © 2004 T. N. R. Rogers. All rights reserved. Last revised 20 oct 2004.