[Home] [Genealogy] [Parents] [Win's photo albums] [Siblings] [Maureen] [Joel] [Friends] [] [Boy Scouting] [Places] [Publications] [Add your comments] [See Guestbook] [See old Guestbook] [Email me]




Tom's own page!
Do not fold, spindle, staple, or mutilate
(except in jest)
&nbsp &nbsp &nbsp Probably if you've made it this far you already know me. I probably begged you to check out my home page — though of course in a sort of shy and self-effacing way.
&nbsp &nbsp &nbsp But in case you've just stumbled onto this site, here I am — just a guy with a website and a virtual smile. I do a little fiction writing and a little portrait painting, and I like to sing and to fumble around on my guitar. Also love to hike and to contra dance. A lot of the time I like to go barefoot (or did when I was living in more hospitable climes) — just one of the reasons people consider me rude and intractable.
&nbsp &nbsp &nbsp In the photos below you can see my pale, rude, intractable hair and my deepset eyes and my weird smirk. On the left I am smirking outside Clair Tappaan Lodge, the Sierra Club lodge not too far from Tahoe. On the right I am smirking while sitting at a picnic table at Big Basin State Park. Gotta do something about that hair.
&nbsp &nbsp &nbsp My nose looks sort of big, too.
&nbsp &nbsp &nbsp God.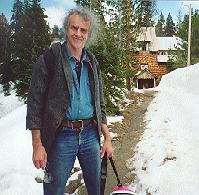 &nbsp &nbsp &nbsp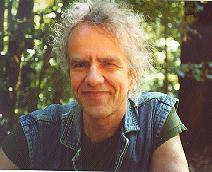 &nbsp &nbsp &nbsp My nephew Phil took this photo of me eating lunch at Rocky Ridge — at Garrapata State Park down at Big Sur — in October 1998. I've chopped off some of that hair since then. But it just keeps coming back..
&nbsp &nbsp &nbsp Would you like to see a photo of me freezing in Phil's rented Miata before we got out and started hiking? How about some photos of Joel on Rocky Ridge in 1995?.
&nbsp &nbsp &nbsp Well, now let's talk some more about me. Wonderful me.
&nbsp &nbsp &nbsp Probably you'd like to hear about some of the minor awards I've received for my writing. A James Michener Award, several PEN Syndicated Fiction Awards, first prize in an Iowa Arts Council writing competition, and two National Endowment for the Arts grants.
&nbsp &nbsp &nbsp Is that the sort of stuff you'd like to know?
&nbsp &nbsp &nbsp O yes, my history.
&nbsp &nbsp &nbsp I lived in Iowa for seventeen years and still have a home there. I first saw the light of day in Westchester County, New York, and lived in Dobbs Ferry and Hastings-on-Hudson — on top of the highest hill in Westchester County, with a wonderful view up the Hudson — till I was 6. Grew up in DC. I've also had brief flings in Daytona Beach, Florida; Waltham, Massachusetts (doing grad work in anthropology at Brandeis); Hollywood, California; and a couple of winters in Provincetown, Massachusetts (being a fellow at the Fine Arts Work Center). For most of the past decade I was living mostly in northern California. A year and a half in Berkeley, but mostly in Santa Cruz and environs.
&nbsp &nbsp &nbsp But now — yes, it's true — I've come east again. For a year and a half I stayed with my brother and Tanya in Baldwin, New York, on the south shore of Long Island. And for the past three and a half years in my own house in Huntington Station, on the north shore, forty or fifty miles from Manhattan.
&nbsp &nbsp &nbsp If you know me, you know that this is not where I belong, not where I want to be. I belong in the west. I have gradually gotten used to the grating voices of Long Islanders, but I have not gotten over the culture shock, which still — after all these years here — feels like a good-sized rodent eating away at my vitals. Every day I long to be hiking through the redwoods of Santa Cruz or up the grassy heights of Big Sur. I dream of living in Taos. I dream of moving to Europe. . . .
&nbsp &nbsp &nbsp Anywhere but here!
&nbsp &nbsp &nbsp I never thought I'd live in the east again, but that's what happens in life. Things you don't expect. Things that slap you in the face or eat away at your vitals.
&nbsp &nbsp &nbsp And sometimes amazing gifts from the universe that arrive in a plain brown wrapper.
&nbsp &nbsp &nbspThis is an ink sketch I did in the summer of 1992. I gave it to Alice Todd for her birthday. But later in the summer she returned it to me -- I looked so miserable in the drawing that she was uncomfortable having it staring from her wall.
&nbsp &nbsp &nbsp It does look a little intense, doesn't it? That's a problem about self-portraits. You stare into the bathroom mirror and all you can see is yourself staring back intently.
&nbsp &nbsp &nbsp You can check out a couple of other hasty portraits: David McCullough and Linh-Chi Nguyen.
&nbsp &nbsp &nbsp I met my ex-wife,

Maureen, at George Washington University. We were studying in the student union and our eyes met and I asked her out for a cup of coffee. Our son,

Joel, was born in Hollywood on November 6, 1972. We'd moved to Hollywood so Maureen could get a master's in dance from UCLA. A couple of years later we moved to Iowa City, and Maureen taught dance while I went through the Writers' Workshop. Maureen still lives in Iowa City and is a wonderful person. So is Joel.
&nbsp &nbsp &nbsp So are all my friends and relatives, when you come right down to it. Wonderful, wonderful, wonderful.
| | |
| --- | --- |
| | Here's a photo Jacky Lewis took of me and Joel outside the house where he was living in Ann Arbor — the day after his graduation from the University of Michigan. He got a degree in environmental engineering. Now he's living in New York and working on Long Island. He's the joy of my life. |

&nbsp &nbsp &nbsp What else do you want to know?
&nbsp &nbsp &nbsp O yeh -- family-type stuff.
&nbsp &nbsp &nbsp

I have three sisters, Winifred, Jackie, and Julie. My brother is the mathematician Joel C. W. Rogers.
&nbsp &nbsp &nbsp One of my roommates owned a scanner, so I found myself able to fill this web page with all sorts of stuff -- mostly just photos, I'm afraid, since he seemed to discourage me from actually sitting on the scanner. Still, I have the capability to make this into a virtual photo album!
&nbsp &nbsp &nbsp But is that really something you feel like wading through?
&nbsp &nbsp &nbsp Probably not. So make your way onto the links at the bottom of the page only if your life is so drab and barren that you want to waste time waiting for photos to pop up on your screen. The photos are just those that I happened to have on hand and to have scanned, and will probably be of little interest unless you're a relative or close friend.
&nbsp &nbsp &nbsp But if you're not a relative or close friend, what in the world are you doing here?
&nbsp &nbsp &nbsp Even if you're not a relative or friend, thanks for stopping by. But maybe — I hate to even ask! — maybe next time you could spring for a pizza and a sixpack?
&nbsp &nbsp &nbsp You can email me

at trogers@alumni.gwu.edu. Or give me a call. Or just come knocking at my door. Let's not be strangers! I'd be happy to see you.
&nbsp &nbsp &nbsp I really would.


Would you like to write a few words in my guestbook? Or see what some other visitors have written there?

[Please let me know if anything on this site is false, misleading, offensive, or intrusive to your privacy. Let me know too if there's a photo or something in the text that should be removed or something that should be added. I welcome all corrections, additions, and suggestions.]

Home page
Genealogy
Parents
Win's photo albums
Siblings
Maureen
Joel
Friends

When I Was a Boy Scout
Places
Publications
Copyright © 1999–2004 T. N. R. Rogers. All rights reserved. Last revised 20 oct 2004.