[Home] [Parents] [Siblings] [Maureen] [Joel] [Joel 1973-1977] [Joel in 1981-1982] [Joel 1984] [Joel in 1985-1986] [Joel and Tommy in Canadian Rockies] [Highschool graduation] [Joel and Unity in Yosemite] [] [Joel at Año Nuevo] [Joel's Michigan graduation] [Friends] [Places] [Publications] [Sign guestbook] [See guestbook] [Email me]

Joel at Rocky Ridge
Joel and Unity had come out for a visit after christmas in 1994 (see photo of Joel on beach with Jacky Lewis), and a year later Joel came out alone for a week or so before christmas. I had moved out of Jacky Lewis's house -- my living there was too hard on her since I was still entranced with Lois.
And Lois was still entranced with her boyfriend.
La ronde.
Anyway, by the time Joel visited I was living at 123 Lennox street (where, as a matter of auditory interest, a train ran through the front yard twice a day).
Joel and I got together with Jacky (up to Año Nuevo to check out the elephant seals), with Joanna Gear, and with Lois, but we also went hiking a couple of times by ourselves. The photo below is of Joel on the bench atop Rocky Ridge at Big Sur.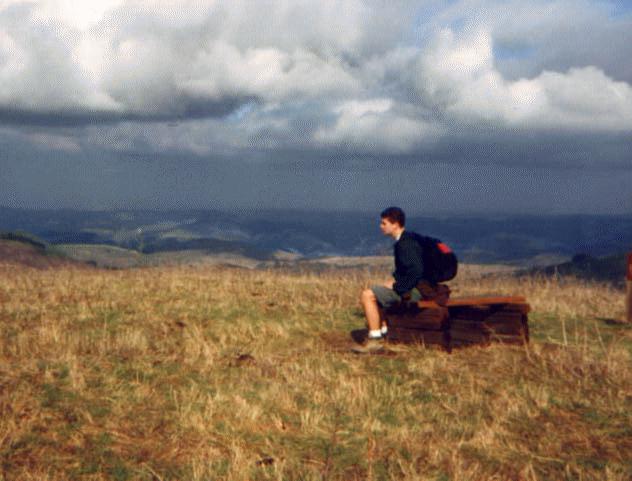 Below is a closeup a minute or two later.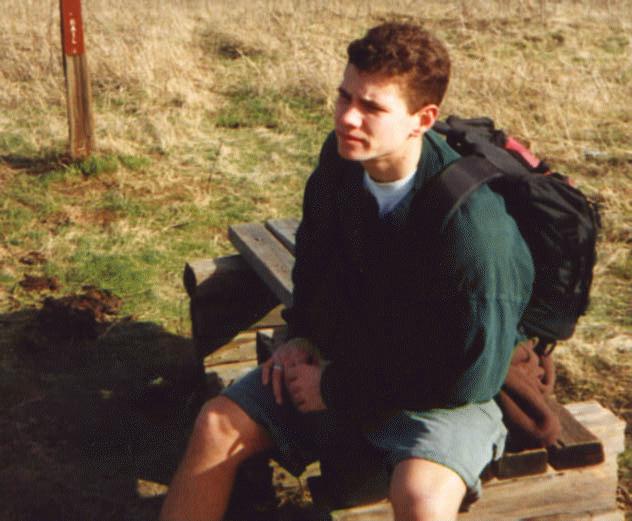 It's a lovely place. I did the Rocky Ridge hike again in October 1998 with Joel's cousin Phil. Want to see a photo of me eating lunch there?
[Nota bene: This page, like all the others in this site, is in progress. The text is mostly irrelevant and hastily written stuff designed just to fill the gaps between the photos -- and the photos themselves are not the best, but simply what I happen to have on hand. Please let me know if you find anything false, misleading, offensive, or intrusive to your privacy. It's hard to maintain privacy on the internet! Let me know too if there's a photo or something in the text that should be removed or something that should be added. I have not set up this site primarily for my own sake but for my family and friends -- and I welcome all corrections, additions, and suggestions about how to improve it!]
Home page
Parents
Siblings
Maureen
Joel
&nbsp &nbsp &nbsp Joel in 1973-1977
&nbsp &nbsp &nbsp Joel in 1981-1982
&nbsp &nbsp &nbsp Joel in 1984
&nbsp &nbsp &nbsp Joel in 1985-1986
&nbsp &nbsp &nbsp Joel and Tommy in Canadian Rockies
&nbsp &nbsp &nbsp Highschool graduation
&nbsp &nbsp &nbsp Joel and Unity in Yosemite
&nbsp &nbsp &nbsp
&nbsp &nbsp &nbsp Joel at Año Nuevo, 1995
&nbsp &nbsp &nbsp Joel's Michigan graduation
Friends
Places
Publications
Copyright © 1999 T. N. R. Rogers. All rights reserved. Last revised 30 may 99.