[Home] [Parents] [Siblings] [Maureen] [Joel] [Friends] [] [David] [Betsy] [Rhonda] [Reeses] [Wayne & Karen] [Maria] [Alice] [Lois] [Jacky] [Joanna] [Places] [Publications] [Add your comments] [See Guestbook] [See old Guestbook] [Email me]

Griff Garwood
Griff sent me this photo while I was living in Santa Cruz (Felton, actually) in 1999, just a few weeks before I took a bus trip east (yes, a bus trip!) and saw him for the first time in a quarter century.
Lois had flown east to meet me, and together we drove out to see Griff and Mary at their farm not far from Harpers Ferry — the farm on Picnic Woods road with the big blue barn. Isn't it wonderful how people remain the same, friendly and giving, even after you haven't seen them for years or decades?
It was a lovely june day. Griff showed us through the big blue barn and through the splendid new house he and Mary had had built on the top of the hill, and he laid out a sumptuous lunch for us. Afterwards he drove us to another house they owned nearby, an old stone house looking out towards a ridge of green mountains, where he and his family had gone for vacations or weekends when he was growing up. It was chockful of "collectibles" — old metal tools and such, all the things you see at garage sales and are not quite able to resist.
That evening, when Mary had come home, Lois and I sat together with them on their deckin the gathering dusk while the fireflies flickered over the fields like a living galaxy. Then, with his typical graciousness, Griff handed us the keys to the stone house and let us use it for the night. Lois and I took a bath together by candlelight.
* * *
Before that, the last time I'd seen Griff was the summer after Joel was born and Maureen and I made the trek across the country from Hollywood. Griff was working in the Watergate complex at the time.
Once upon a time, when I was growing up, "Watergate" meant the concert barge that was anchored in the Potomac at the base of the steps in front of the Lincoln Memorial. Hundreds of people would go there for open-air concerts on summer nights. But when we came east in 1973, people thought of "Watergate" only in terms of the building complex where Griff was working — the same complex where there had occurred the minor burglary that brought down the Nixon presidency.
That summer, Nixon was still in the White House, and Watergate was in the news daily. When I went to see Griff I had a beard that reached to my sternum, the longest and ugliest beard i've ever had, and when I introduced myself to his secretary she looked at me with undisguised scorn — you want to see Mr. Garwood? — before trotting off to fetch him.
By the time Griff came out I was feeling very self-conscious. But he said nothing about the beard, and we had a pleasant lunch together, of which I can remember nothing because I was still thinking about the beard. I probably scissored it off as soon as I got back to my parents' place.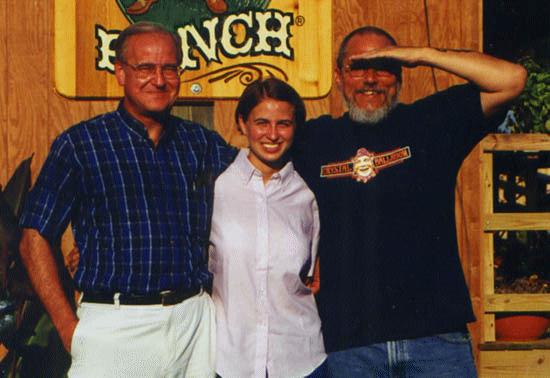 &nbsp &nbsp &nbsp Griff with his daughter Ann and Jerry Kaukonen. I probably don't have to say a lot about Jerry — he's gained a huge following as lead guitarist and singer for the Jefferson Airplane and Hot Tuna, and you can tune in to a thousand other web sites for all the relevant FAQs.
&nbsp &nbsp &nbsp Jerry and and his wife Vanessa live on Fur Peace Ranch in Ohio, which they've made into a music camp, and Griff stopped by to visit them in summer of 1998, which is when this photo was taken. "They seem very happy and well matched," Griff told me. "He sports a full tattoo mural on his back, as I told him now somewhat faded like an old quilt."
I've known both Griff and Jerry from the sixth grade. We were in Miss Towson's class at Lafayette Elementary School, and it seems to me I can remember almost everybody else who was in the class and whee they sat — perhaps because our desks were all arranged around the perimeter of the room rather than in neat rows. Paul Goldstein, Lee Lush, Clay Hall, John Alsever, Anne Ambler, Nancy Tash, Mary Meissner. (Mary is living in Morro Bay, and I've just reconnected with her.)
I'd first met Griff the summer before. My parents and Joey and I had come back from Florida at the start of the summer, and, as I'd done many summers before, I spent several weeks at the Oak Knoll day camp, a free camp which was run by the city on the fringes of Rock Creek Park off Oregon Avenue — not far from where Charlie and Elizabeth Coulon lived. I can remember the exact moment of our meeting — or at least of my feeling excited to know this boy. We were wading in Rock Creek down below Military Road — evidently on some sort of field trip. I don't remember what it was he or I said, but I do remember the feeling of happiness or recognition I felt.
And then he was in Miss Towson's class. The years we knew each other best, though, were in highschool, when we were both members of the Chevy Chase Presbyterian Church's youth group, Firesides. Griff was often its president and I was the editor of its newspaper.
I always sort of expected that when he grew up he'd be elected to some sort of office — congressman, senator, president, one of those things. He would have been good at any of those, but he never had the pathological hunger for power that drives politicians. Now that he's retired from the Federal Reserve to his farm with the big blue barn, the image that comes to my mind is of the Founding Fathers — men for whom politics was but a small side issue in the great events of life. I think of Jefferson retiring to Monticello, Washington to Mount Vernon. Griff has the same sort of intelligence, the same sort of breadth. He is not retiring -- he's reaching out, growing, creating, trying to understand.
I wrote to Griff about some of our old highschool acquaintances, and he wrote me back:

&nbsp &nbsp &nbsp In my way of thinking each of those lives has the absolute same weight and value — I do not "rank" them on accomplishments. Each one, in my view, is like a multi-faceted diamond all of the same weight and value, but each with a different surface pattern. Who is to say that a moment spent alone with an insight to life isn't as valuable as learning enough . . . for an advanced degree.
&nbsp &nbsp &nbsp For myself I am now trying to cram as many experiences into my remaining years as possible.
[Nota bene: Please let me know if you find anything false, misleading, offensive, or intrusive to your privacy on this site. I welcome all corrections, additions, and suggestions for improvement.]

Home page
Parents
Siblings
Maureen
Joel
Friends
&nbsp &nbsp &nbsp
&nbsp &nbsp &nbsp David McCullough
&nbsp &nbsp &nbsp Betsy Grady
&nbsp &nbsp &nbsp Rhonda Flemming
&nbsp &nbsp &nbsp John Rees
&nbsp &nbsp &nbsp Karen Subach & Wayne Johnson
&nbsp &nbsp &nbsp Maria Bona
&nbsp &nbsp &nbsp Alice Todd
&nbsp &nbsp &nbsp Lois McLaughlin
&nbsp &nbsp &nbsp Jacky Lewis
&nbsp &nbsp &nbsp Joanna
Places
Publications
Copyright © 1999–2004 T. N. R. Rogers. All rights reserved. Last revised 8 oct 04.