[Home] [Parents] [Siblings] [Maureen] [Joel] [Friends] [Griff] [David] [Betsy] [] [Rhonda] [Reeses] [Wayne & Karen] [Maria] [Alice] [Lois] [Jacky] [Joanna] [Places] [Publications] [Sign guestbook] [See guestbook] [Email me]

Butch and Elaine Beaty
&nbsp &nbsp &nbsp Maureen and I first met Butch and Elaine in the summer of 1971, when we were traveling east from Hollywood by way of the Canadian Rockies. We were driving our old Econoline van and had with us our kitten Sunshine, our surrogate baby. We camped out at Takkakaw Falls in Yoho National Park, and that was where we met the Beatys. They were about our age and were visiting the Rockies from Minnetonka, Minnesota, with their three kids: a dark-haired six-year-old named Brooke; a blonde four-year-old, Shelley; and a two-year-old adopted korean boy, Bok-Nam. In the evenings after the kids were asleep we would sit around the campfire and listen to tapes on their van's tape player. It was the first time I'd ever heard John Denver, and whenever I hear his sweet, clear voice singing "Country Roads" or "Leaving on a Jet Plane" I'm transported back to those clear, chilly evenings near Takkakaw Falls.
Would you like to send Butch or Elaine an

?


&nbsp &nbsp &nbsp After Maureen and I had moved to Iowa with our baby boy we traveled up to Minnesota to visit the Beatys. They took us sailing on Lake Minnetonka. And a year later we drove up to Lake Superior and went for another excursion with them there -- drinking piña coladas and getting more and more seasick.
&nbsp &nbsp &nbsp"Here, smoke this," Butch said, thrusting a joint in my direction. "This will settle your stomach."
&nbsp &nbsp &nbsp I sucked in the smoke and then puked over the side of the boat.
&nbsp &nbsp &nbsp Butch wasn't very happy about that.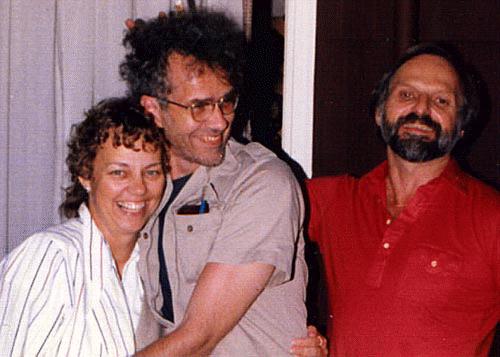 &nbsp &nbsp &nbsp Butch and Elaine had us all out to their place for dinner on June 21, 1986, when Tommy and Joel and I were on our way to the Canadian Rockies. Jay, who'd been putting the three of us up at his place and who came to dinner with us, recorded this typical Beaty moment -- me groping Elaine, Butch making horns of his fingers.
&nbsp &nbsp &nbsp Butch is actually much handsomer than this, and Elaine more beautiful. As for me -- I have shaved since this photo was taken.
&nbsp &nbsp &nbsp Their twentyfifth wedding anniversary was coming up in a couple of years and they were planning to sell everything and sail around the world. When's that going to happen, I wonder?


&nbsp &nbsp &nbsp When Joel and Tommy and I were on our way to the Canadian Rockies in 1986 we stayed with Jay an extra day so we could get to see Butch and Elaine (whom Joel and I hadn't seen since a visit in August, 1980). Now the two little girls had become highschool graduates, and the little boy, who at two had walking problems because of an insufficient diet as an infant, was tall and lean and an avid skateboarder. Joel was in awe of him, and I was in awe of his parents. They had turned their lives around, giving up various evils (and red meat, too, I think, in Butch's case) that Nancy Reagan thought folks should just say no to. And in a couple of years, they told me (just in time for their twentyfifth anniversary, June 22, 1988), they intended to sell their house in Minnetonka and buy a fortyeight-foot boat in which to sail around the world. They'd already sold their other boat to save up for the dream boat
&nbsp &nbsp &nbsp Of course, the next few times I saw them they still hadn't gotten around to forsaking civilization for that round-the-world trip. Butch keeps inventing stuff, and he'd developed a system to inspect computer chips to see whether all the leads are precisely in place. The chips have four or five hundred leads , and his system inspected about a thousand chips an hour. So he had to work quickly -- no time to take off for sailing, because "In a few years it may be that nobody will need this. It'll be as outdated as a buggy whip."
&nbsp &nbsp &nbsp Last time I saw him and Elaine, in 1994, they were just leaving San Francisco after showing his system at a trade show there. Jacky Lewis and I met them for dinner in Pacifica, and they told me about their kids.
&nbsp &nbsp &nbsp Bok was working for Butch, and Shelley was a schoolteacher in a rural area up north. She and her husband had bought wooded land on a stream thirty miles north of Dubuque, where they had three dogs and three cats and a bear came to visit.
&nbsp &nbsp &nbsp Brooke, who'd been studying agricultual engineering ath the University of Minnesota, had just gotten married the month before. "She was about to call it off at the last moment," Elaine said, "but then decided she just had cold feet. And the best man almost didn't make it because he was going to be fired, and Shelley was defending him, and Brooke said, 'Shelley, just shut up! Get out of here!' So they almost didn't have a matron of honor as well."
&nbsp &nbsp &nbsp The bridegroom was a biker, Elaine went on, so she and Butch had had an ice sculpture made of a Harley-Davidson. It brought tears to the bridegroom's eyes. A lot of his buddies showed up in a limo, and when they opened the doors a pile of beer cans spilled out.. When Brooke said "I do" they all stood up and cheered.
&nbsp &nbsp &nbsp Since then the marriage has ended. But Brooke has provided Butch and Elaine with their first grandchild -- Alexander Gregory Scott Beaty.
[Nota bene: This page, like all the others in this site, is in progress. Please let me know if you find anything false, misleading, offensive, or intrusive to your privacy. It's hard to maintain privacy on the internet! Let me know too if there's a photo or something in the text that should be removed or something that should be added. I have not set up this site primarily for my own sake but for my family and friends -- and I welcome all corrections, additions, and suggestions about how to improve it!]

Home page
Parents
Siblings
Maureen
Joel
Friends
&nbsp &nbsp &nbsp Griff Garwood
&nbsp &nbsp &nbsp David McCullough
&nbsp &nbsp &nbsp Betsy Grady
&nbsp &nbsp &nbsp
&nbsp &nbsp &nbsp Rhonda Flemming
&nbsp &nbsp &nbsp John Rees
&nbsp &nbsp &nbsp Karen Subach & Wayne Johnson
&nbsp &nbsp &nbsp Maria Bona
&nbsp &nbsp &nbsp Alice Todd
&nbsp &nbsp &nbsp Lois McLaughlin
&nbsp &nbsp &nbsp Jacky Lewis
&nbsp &nbsp &nbsp Joanna Gear
Places
Publications
Copyright © 1999 T. N. R. Rogers. All rights reserved. Last revised 2 aug 99.